The Pregnancy Help Center would not be able to provide life-saving services without the help of a dedicated team of volunteers. This Volunteer Appreciation Week, we are shining the spotlight on these amazing people who work behind the scenes to provide abortion-vulnerable women the help they need to choose life. Get to know one of our volunteers, Jeanine Gallagher, and read all about her experience at the Center:

Tell us a little about yourself. How long have you been volunteering and how did you come to start volunteering with the Center?
I truly believe it was divine providence that led me to the Center. I knew about the Pregnancy Help Center from the Baby Bottle campaign at my church but that was the extent of my involvement. Then about twelve years ago, they were looking for a new Board Member at the Center and my neighbor recommended me (I'm still not sure why). I met with Adrienne, the Executive Director, and told her that I didn't want to be a Board Member, but I would love to volunteer. My children were getting older so I had more free time, and I had been looking for a place to volunteer. It was the perfect place for me!
You serve in many roles at the Center. Could you describe your different roles and tell us what a typical shift looks like for you?
I am mainly a receptionist at the clinic and usually work one day a week from 9:30 a.m. to 3:30 p.m. A typical day involves answering the phone, scheduling appointments, and checking the clients in when they arrive for their appointments. A few years ago, I went through training to become a Client Advocate, so I fill in periodically when needed.
I also help organize the storage unit where the Center keeps all the baby items gifted by donors. Three times a year, we hold a Baby Boutique and invite clients to come and take whatever they need.
The other main task I have is to manage the BrightCourse program. We send clients a link to online courses, and they accumulate points by completing the lessons. With these points, they can come into the Center and "buy" brand new baby items at our Bright Course "store".
I also used to be the coordinator for the annual Walk for Life South Bay for many years until I stepped back in 2021.
What is it like being in the clinic and interacting with clients?
I really enjoy seeing all the clients as they come through. As you can imagine, there are a variety of emotions and attitudes represented, but people are so appreciative of the help and support we provide. I especially like seeing the fathers come out after seeing their baby on the ultrasound monitor. They are often quite overwhelmed with emotion. It's very special!
Do you have any memorable stories to share from your time volunteering?
At the last Baby Boutique, I was asking a client for her name so I could save a particular item for her. When she told me her name, I recognized it immediately. She was a client I had been frequently communicating with over email. It felt like I had found a lost relative! We both said, "I didn't know that was you" and gave each other a hug! This has happened a few times at the Baby Boutique and it's always a wonderful experience for me.
What is one thing you would tell someone who is considering volunteering at the Center?
Be flexible. There will be shifts where the schedule looks empty and you might think, "why did I even come in?" But then clients walk in unexpectedly or the phones ring off the hook. Sometimes it just ends up being a quiet day. In any event, just being available is a huge help! You never know what the day will bring, but God will use you if you are open to His call.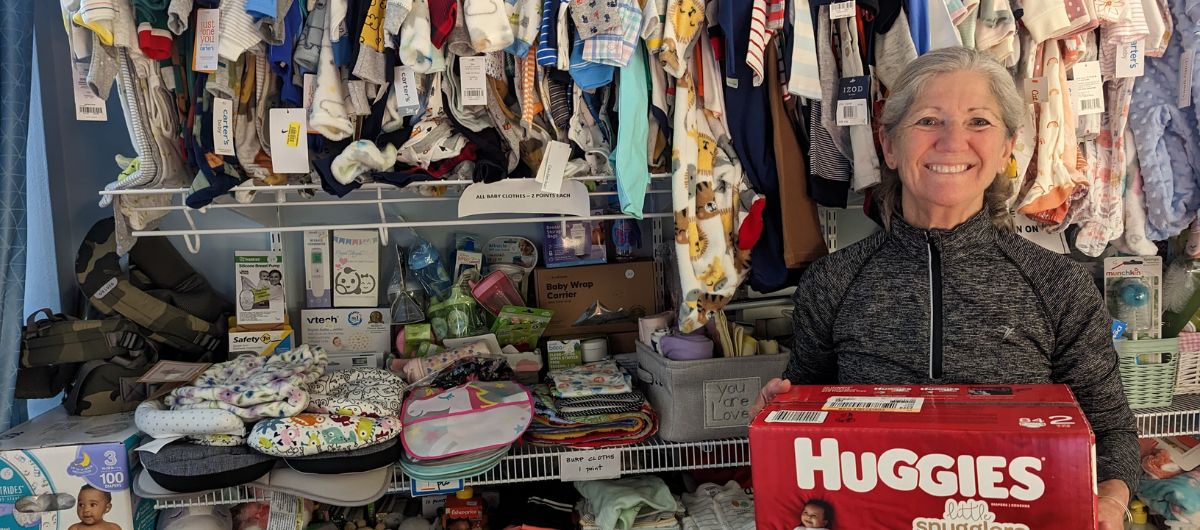 We are so grateful to Jeanine and all our volunteers who work tirelessly to provide life-affirming support to our clients and their babies. Thank you for all that you do! We're always happy to welcome new volunteers. If Jeanine's story has inspired you, find out about all the different opportunities we have and apply to be a volunteer today.