Legacy of Hope Society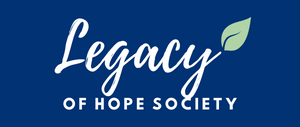 Planned Giving
The transfer of assets (e.g., real  estate, stock or life insurance) to a designated nonprofit organization during a lifetime or upon someone's passing.  Usually this happens via a will or other written means.  The giving is "planned" because often these assets are not liquid, have tax consequences or can be used to simultaneously generate income for donors.
Planned giving gifts contribute to the sustainability of the Center and could potentially open doors for additional PHC locations and expanded hours to serve more abortion-vulnerable women and save lives. These contributions help us provide a safe, caring environment where every woman facing a crisis pregnancy can receive information, education and practical assistance in order to eliminate the crisis and choose life for her baby.  These giving options are a win-win opportunity for the donor and as well as PHC.  We encourage you to consult with a financial/legal advisor to discuss the tax implications of these options.
Leave a Legacy
Below are some of the types of gifts you can consider:
Bequests – One of the easiest ways to help involves simply naming the Pregnancy Help Center as a beneficiary in your will and living trust.  A bequest may be for a particular dollar amount or percentage of your estate.  Estate tax savings may be significant.
Life Insurance Policy and Retirement Assets – Often overlooked by donors, naming the Pregnancy Help Center as a partial beneficiary of these assets can provide support of the organization.
Life Income Gifts – Life income gifts allow you to leave a gift in the care of the Pregnancy Help Center, while earning income for yourself during your lifetime.  The two most popular life income gifts are charitable remainder trusts and charitable gift annuities, which may include gifts of cash, stocks and bonds.
Complex Gifts – If you are a business owner, own real property, or have any other type of complex asset, giving options exist that can both help the Pregnancy Help Center and benefit you financially.
Legacy of Hope Society members become a special part of the Pregnancy Help Center donor family. Generations to come will benefit from your planned gift.  For more information or to discuss membership in the Legacy of Hope Society, contact Adrienne Gross at 424-263-4855 or agross@phctorrance.org.